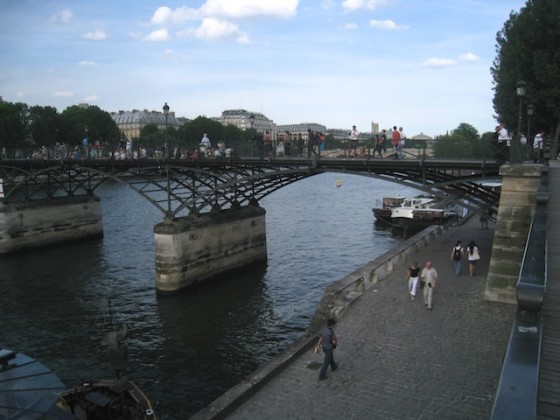 Cities are for people. How often do you think of a city as the human habitat? Do you ever look at your daily routine and how it could be improved if the environment you lived in were different. Lions live in the Serengeti because the habitat provides them with what they need for life. Does your habitat provide you with what you need for life?
There is a project just taking off in Providence that has the potential to improve the habitat and in turn the daily lives of many citizens. On Wednesday the City and RIDOT will be unveiling the final design proposals for the pedestrian bridge that will be replacing the original 195 highway. My hope is that at least one of the design proposals will provide Providence with a bridge for people. My gut seems to be telling me that we will mostly be getting proposals for a semi-functional "icon" that will look "sexy" or "modern" on a postcard, but once constructed will provide a dismal environment for humans. I've spent a little time thinking about what this new bridge should do with the hopes that those in the position to select the winning design give more thought to what the bridge needs to do for the humans who will be using it.
A quick aside, I placed my order today for Jan Gehl's new book Cities for People
because of his firm's great commitment to building comfortable cities. I am noticing more and more good work happening in places like Copenhagen, New York and San Francisco and hope that places like Providence will get it soon as well.
Now on to the criteria for a great bridge:
It is All About the Water
If a pedestrian bridge is going to be vibrant it must be about experiencing the water. Being on the water. Looking across the water. Watching the objects upon the water. This natural connection can be accomplished in various forms. The 
Passerelle des Arts
is perhaps the best example of a successful pedestrian bridge that I have experienced recently. As you can see from the photo above, the bridge connects directly to the quay below allowing for folks to stroll right on down to the water. Another important detail connecting the bridge strongly to the water is the use of wood planks as the surface material. The cracks between the boards allow you to feel the water passing below you. I also enjoy how the structure of this bridge seems to disappear giving way to the river beyond.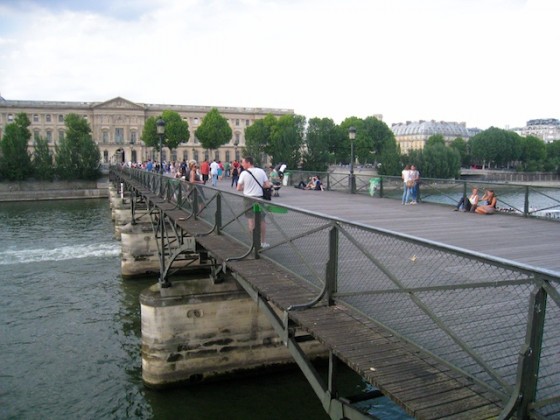 Simple & Durable Details for Comfort
A pedestrian bridge is everyone's and no ones'. People will take photos on it. People will sit on it. People will have a picnic on it. People will even get engaged on it. Yet, none of this will happen unless they feel comfortable on it. The bridge needs to feel like you are the first person to sit in that spot, ever. This is how a bridge becomes everyone's living room. So how does a bridge do that? The design cannot be too complex. The materials need to be durable, and simple so that if they do need to be replaced they can be quickly and easily. The bridge needs to be clean, and have the receptacles to encourage cleanliness. The bridge needs to be warm. People will sit on anything, but they will enjoy sitting on certain materials more then others. Pick those. The structure needs to be firm and realistic. People understand their living rooms. To be comfortable, they need to understand their bridge as well.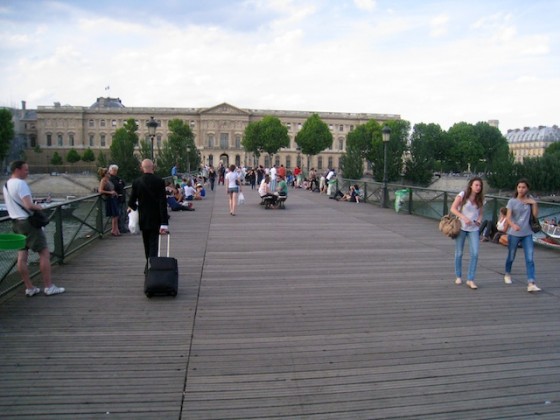 Not Too Much Room
If a pedestrian bridge is going to evolve into more then just a way over the river then careful attention needs to be given to width. Too wide and people will lose their connection to the water. Too narrow and there is no room for leisure. The best pedestrian bridges have three zones. The center is for clustering. This is the area for bigger picnics, benches, ping-pong, and all sorts of small group activities. Moving outward, the main travel ways need to be wide enough for two people to pass each other comfortable or for a strolling couple and a stranger to pass without discomfort. If the proportions properly sized, then this area should also handle nicely the frequent bicycle. At the railings of the bridge is the most important zone. The railing needs to not only protect you from a fall, but also be a coffee table, a leaning post and a writing desk. All manner of activity will take place in this zone, and the rail is the key to making it prime real estate. Think of the bridge's cross section like a great boulevard where activities mix well with the passing people. Particular attention needs to be given to each of these zones. A foot here and six inches there can put this dance way off balance.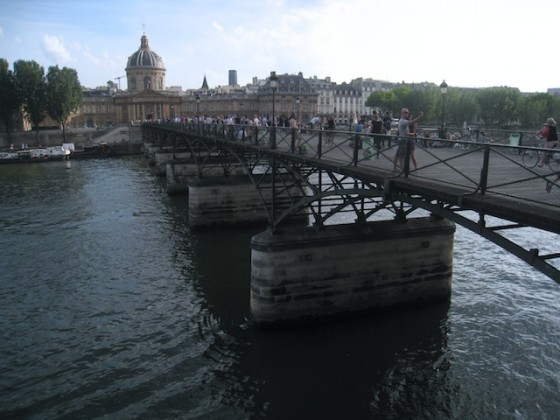 Something is On the Other Side
You would think that all bridges have something on the other side. However, they don't. Humans love to know that something, anything, is worth crossing over to the other side. A visual indication that there is life across the water is good. In Providence, there will be two new parks on both sides of the new bridge. What will people find in these new parks on each side of the bridge? Will you be able to see it form the other side? Principally, a bridge is a transit connection. It provides access for travelers to get to and from their destinations. Will these new parks be great destination in their own right? If not, what are the other destinations that this bridge will serve and how can its design help make it fun to go over the bridge to get there?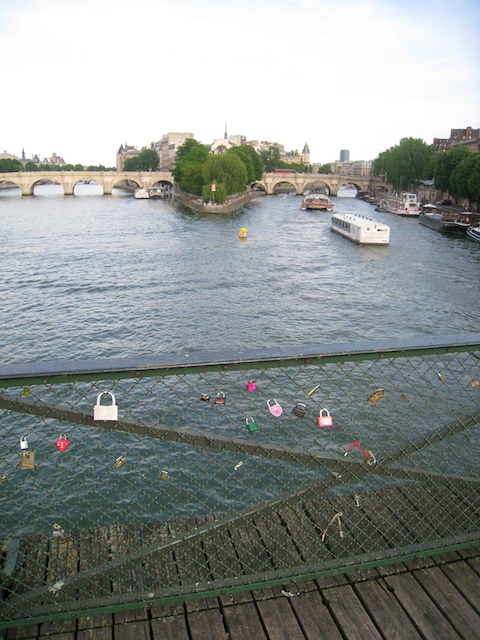 Leave Room for Traditions
Flexibility is a key ingredient to all successful public spaces. A framework needs to be created that not only provides a comfortable environment for the citizens of a place, but also supports its evolving culture. A design needs to leave room for these living traditions. The
Love Padlocks
of Paris have a place. These tokens give life to this bridge. They are a powerful ornament, but a simple little detail that would not have been possible unless the design of the railing was flexible. When two people come out onto a bridge, kiss and leave feeling more alive their city is providing for them in more ways then modern planners can count. This is the art of city building. This is the alchemy of creating authentic place for people.
– – –
The Public will have an opportunity to view the proposed bridge designs of 11 finalists competing in the Providence Pedestrian River Bridge Design Competition at a special reception on Wednesday, November 3rd from 5pm until 7pm at Providence City Hall. (via Greater City Providence)