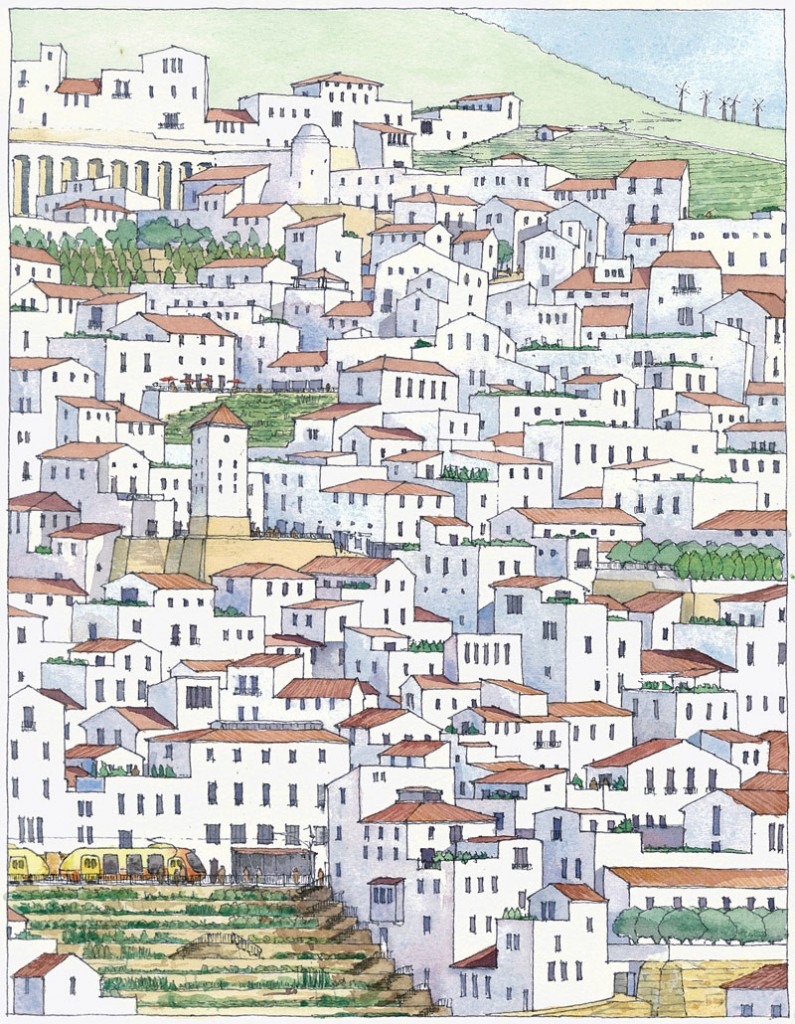 We held an open source conversation about the concept of Living Urbanism at CNU17. Below are a series of point that summarize the conversation. Many insightful topics were discussed such as redefining our understanding of the neighborhood, how to create elegantly sustainable places, how the community of a place is the foundation for its success and the power of using the concepts of social media in the real world, with real people.
Thanks to everyone who took more then an hour out of their Congress to share their thoughts on this emerging concept. I produced the image above as a diagram for how some of these concepts could effect the form of our built and natural environment. Please comment if I have missed anything or want to introduce additional ideas.
Characteristics of Living Urbanism:
1. Served by locally produced food.
2. Served by power produced by a local, renewable system.
3. Served by water provided by a locally renewed aquifer or water body and
4. supplemented by captured rain.
5. Served by infrastructure and commerce that supports a zero waste
economy.
6. Served by a transit system providing access to needs not easily reached
by foot.
7. Served by convenient access to Nature and the countryside.
Discussion on Living Urbanism:
What do we define as truly being "daily needs"? It could be stated that social interaction is the primary daily need.
Where does a sense of community come from and how do we capture that in a place?
What are the "loose fitting" characteristics of timeless places that we are not apply to our contemporary designs? More focus on the detailed characteristics of flexible buildings and neighborhoods need to occur. Rome being the best example of enduring and flexible form.
Streets need to be thought of more as places and not only thoroughfares. Public space is the platform for social interaction to occur. A Living Tradition needs the support of a community to carry on the lessons.
Creating high quality, beautiful public spaces throughout a neighborhood and city is, perhaps, the best economic development tool available. A piece of Living Urbanism must have fantastic postcards of it's many publics spaces.
Stuff that sucks isn't going to last.
Living Urbanism is a threshold. It supports a lifestyle that is resilient and, perhaps, more enjoyable. Regardless of form, a person's daily commute to work would ideally be no more then 15 to 20 minutes.
The local geography of a person's daily routine is important to consider when thinking about the structure and life of a neighborhood. This local geography is smaller then we think. What is the pattern of your daily life and how does your current built environment not support a comfortable routine.
There is an over concentration of jobs. How can technology support a decentralization of the workplace that is economically sensible? We need tools for linking and creating small outposts for big business.
All aspects of vertical sprawl need more concrete positions to be effective. If the train doesn't work can you walk? Can urbanism really be resilient if it relies too heavily on technology that is not enduring through recession, depression and crisis.
We must remember that a high quality Civic Realm is directly related to the ability to create smaller units and therefore more density in less space.